From the outside, St Mary is a very peculiar-looking building. One approaches it from the south, and it looks very insubstantial: there is no tower, and the nave looks very small.
Walking round to the west front, the impression is suddenly very different. Here, the church looks massive: rather low in height, but extremely broad. The wall is surprisingly blank, punctuated only by four relatively small windows, and has a rather mutilated look. Originally, there was a tower here – one of only three round towers in the county, the others being at Bartlow and Snailwell.
Sadly, it fell in 1855, and nothing remains save a drawing of it by the antiquarian William Cole who passed this way in 1744. Cole's drawing made the tower look extremely thin, and until we visited St Mary I assumed that this was just an odd idiosyncrasy.
However, inspection of the west wall suggests that he might have been right. There are two Elizabethan windows, high up and towards the middle of the wall: if they framed the tower, as seems logical, it must have been very slender indeed – not much larger than a thick chimney.
As I said, this is a very broad church, and so ones first impression of the interior is of surprising space. The nave is only three bays long, but it is wide, and the aisles are spacious as well. It is light and spacious, with relatively little by way of furnishings. What there is, though, is excellent.
Take, for example, the font. It is octagonal, and looks like it might be 13th or 14th century. Each face is decorated with a different pattern, geometrical shapes or architectural forms. Amongst others, I noted a three-lighted window with a transom on the east face, a seven-lobed multifoil on the south-east, as well as trefoils and arcades elsewhere.
Behind it, leaning against the west wall, there are some templar stone coffins with crosses on the covers. The wall they lean against was partially restored a few years ago, and some remains of old wall-paintings were discovered: most of them remain under plaster to be preserved until there is the money to undertake a real conservation effort, but the bits that are exposed (mostly just floral designs) are rather nice.
The chancel arch is wide, and has two interesting faces at the top of the responds, looking inwards. They have quite substantial flat-topped heads, and we wondered whether they might have been used originally to support a rood beam. If they were, nothing survives now: there is a screen dado below, but I think it is Victorian.
The chancel itself is Early English in style, though the only real indication of this is a lancet in the south wall which now opens onto a vestry rather than the outside world. The rest of the windows have, in the usual way, been replaced with later and grander openings. The east window is particularly so, and has a nice niche on its left with a bit of leaf-carving on a canopy over the top.
The real treasures of this church can be found in the south aisle. At the east end there is a tomb effigy depicting a man reclining on a pillow with an angel by his ear. It is very battered, sadly: the angel has lost his head and arms, and the man is quite anonymous. He has endearingly knobbly knees, though, and a pudding bowl haircut that screams 'Agincourt'.
Just west of him is a brass commemorating Sir John de Creke and his first wife Alyne Clopton. Sir John was the youngest of three sons who carved out a fortune for himself in the troubled years of the early 14th century. He was appointed an Assizer and Collector for the county of Cambridge in 1302, in which year he was also knighted. Later, he acted as sheriff for Cambridgeshire and Huntingdon from 1307 to 1313, the first six years of the reign of King Edward II, before being given responsibility for controlling the great port city of Bristol for the king.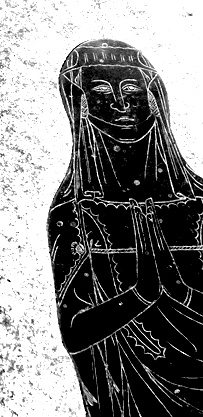 Edward II had a troubled reign: England was gripped by a struggle between his favourites (Piers Gaveston at first, and then the Despenser family) and the barons who, through Parliament, attempted to rule England as an oligarchy. In 1322, the country came perilously close to civil war, with the Earls of Lancaster and Hereford raising an army to resist the King. Despite his favour in royal circles, Sir John de Creke fought on the barons' side in that rebellion. Despite this, he seems not to have suffered repercussions when the rebels lost: there is a record of him receiving a routine summons for military service against the Scots later in 1322 (which he refused, on the grounds of age and ill-health), and he continued to represent the county of Cambridgeshire in Parliament until his death in 1325.
His brass is magnificent. Sir John and Lady Alyne lie side by side: slender, elegant figures ofalmost life-size. He wears beautifully detailed armour, with a sword hanging from an elaborate belt and his feet resting on a lion; she has her hands clasped in prayer and wears a fine headdress. Around them, one can just see the outline of an architectural canopy which is now lost. It is described in the church guide as 'the most elegant of all military brasses', and I think that may well be right.
St Mary is kept open.