St Margaret was closed when we turned up on the first day of February, 2004. The noticeboard urges those wanting to get inside to telephone one of the churchwardens, but since the phone numbers given didn't include the area code, we were a bit stumped. I've since discovered that it's in the Cambridge exchange, so I will be returning anon to have a look inside.
The churchyard sits on the edge of a large estate, raised slightly above the parkland. We saw it full to overflowing of anemones and snowdrops - bright gold and white spilling over the gravestones and lapping against the cold bare trees. In the south-west corner there is a little wood containing a remarkable little mausoleum in the form of a round greek temple, with two Ionic columns on either side of a doorway surmounted by a leering lion's face. Since Pevsner makes reference to lots of monuments to the Pemberton family inside the church, I presume this is theirs as well.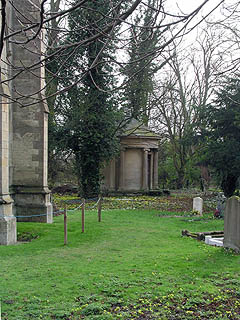 It was designed in 1922 by Ambrose Poynter. This is a name that might be familiar if you've read the entries on this site for Christchurch, St Paul and St Andrew the Great in Cambridge. Those churches were designed in the 1840s by another Ambrose Poynter, our present man's grandfather. It seems to have been a distinguished artistic family - Sir Edward Poynter (son of Ambrose I, father of Ambrose II) was president of the Royal Academy from 1896 to 1918, Director of the National Gallery from 1894 to 1905 and made a baronet in 1902. Sir Edward was well-connected: he married Agnes MacDonald, one of whose sisters was Georgiana, Lady Burne-Jones, and two more of whom were the mothers of Rudyard Kipling and Stanley Baldwin. The younger Ambrose, then, was born into an influential artistic family. Sadly, he didn't long outlast his father, and died in 1923 - only a year after he built this mausoleum. To hire such an important architect, the Pembertons must have been a wealthy lot.
It is strange, then, that we don't have a big church, reeking of their patronage. It is true that the west tower is a grand Perpendicular building, very self-assured and expensive looking. The main body of the church, though, is tiny - it has transepts and a chancel, but all is in miniature. The clerestory in the nave has only two windows on each side. The north porch is built into the aisle, and the little ensemble of door and window is so small and domestic that it could be someone's house. Perhaps this was only ever an estate church, so nothing bigger was ever needed? Watch this space - we will find out when we return…
St Margaret was closed when we visited - the churchwardens are listed,
but remember to add the Cambridge area code 01223.