I cheered when I saw the dedication of this lovely little church. St Edmund has always been my favourite saint, and I feel indignant that he was deposed as patron saint of England by St George. My maternal grandparents retired to a village a few miles south of Bury St Edmunds, where he was buried. My dad grew up in Hunstanton, which is supposedly where he landed to reclaim his kingdom, and whenever we visited my grandmother for summer holidays there I used to go and stand in the ruins of the chapel built on the cliffs to commemorate the occurrence. Dedications to him are quite frequent in the counties of Norfolk and Suffolk, but he doesn't seem to be much remembered over here in Cambridgeshire - well done, Hauxton.
He couldn't have wanted a nicer church, either. St Edmund's is early 12th century, as is evinced by the round-headed doorway and many of the windows. The south doorway and one of the south windows are decorated with typical geometric designs - overlapping circles and so on. Several of the windows are very narrow, and their rounded heads are carved entirely from a single stone - I wondered if perhaps they were reused Saxon work. There certainly seems to have been a Saxon church and settlement here since at least 970, barely 100 years after its patron was martyred.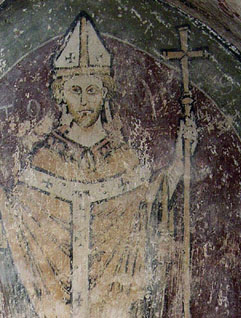 Inside, the aisleless space whispers to us of antiquity. The tower arch is extremely tall and thin - like the tower, it is Perpendicular, and the west window let long slanted golden light spill in over the yellow-painted walls of the nave. At the east end of the nave, blocked-in arches in each wall indicate that at one point there were little transepts. Many of the benches in the nave are medieval; they are undecorated save for some wonky little buttresses, but I liked them a lot. In contrast to their simplicity, the Norman chancel arch is remarkably grand for its age and the small size of the church. The arch has lines of roll-moulding, and it rests on paired half-pillars. On either side, facing into the nave, are two arches. The northern one is filled in, and might have been a squint or a lady-altar. The southern one is simpler, but the niche remains, and it has a fine wall-painting on its back wall. A rather cross-eyed St Thomas á Becket stares out at us, hand raised in benediction. It was painted in about 1250, which (according to Pevsner) makes it quite an early representation. Maybe it's one of the 'Three popish pictures' that Dowsing saw here in March 1643.
The chancel itself is small and plain. Once upon a time there was an apse here; although it is now square-ended. Two little slit windows demonstrate that much of it is the same age as the nave. Two big Tudor windows have been added in the south wall - almost closer to us in time than it is to the building of this holy little place. By the time I was ready to leave, the sun had swung so far to the west that the only direct light spilled over the bumpy plaster. I bade farewell to St Edmund and promised to raise a glass to him on the 20th of November, then wobbled off on my bike into the sunset.
St Edmund's always seems to be open